CHRISTINA RAY is an innovative gallery and creative catalyst in New York. Our mission, grounded by the concept of psychogeography, is to discover and present the most important contemporary artists exploring the relationship between people and places.
The gallery's program was launched in early 2002 an experimental, web-based arts lab called Glowlab, through which founder Christina Ray produced exhibitions and projects including street-based performance work and site specific interventions in public space. Glowlab moved from Brooklyn to Manhattan in 2008 with an exhibition space at the edge of SoHo. In early 2010 Ray re-launched the gallery under her own name.
Represented artists work in a range of media and share a passion for examining the nature and psychology of the built environment. Artist talks, limited edition books, large-scale wall drawings and outdoor installations are often incorporated into exhibitions along with scholarly essays and catalogues. Gallery artists are represented in important collections throughout the world and have been featured in publications including The New York Times, New York Magazine, The Wall Street Journal, Time Out New York, The Economist, The Los Angeles Times, The Boston Globe, Flash Art and many others. The gallery presents approximately a dozen exhibitions per year and participates in major art fairs including PULSE New York/Miami, NEXT Chicago and the independently-run Fountain Art Fair New York/Miami.
In 2003 Ray co-founded the Conflux Festival, a New York City urban art and technology festival and symposium attracting artists and academics from all corners of the globe. Emerging from the collaborative development, production, and exhibition of projects inspired by psychogeography, Conflux has become an internationally-acclaimed annual festival now in its seventh year and Ray remains active as Festival Director.
CHRISTINA RAY is pleased to continue its summer group show series with an exhibition of new work by New York-based artists Brian Leo and Don Porcella. In an installation of paintings and sculpture, the artists take on contemporary culture with humor and post-ironic wit. The exhibition opens on July 7th and runs through July 31st. A reception will be held on Thursday, July 7th, 7–9pm at CHRISTINA RAY, located at 30 Grand Street in New York, NY.
Leo and Porcella share an interest in locating their subjective realities within the larger contemporary experience. News stories of pop culture and political scandal mingle with artistic imagination to create scenes ranging from Porcella's alien visitations and disembodied creatures to Leo's environmental disasters and animals with iPads. Leo presents new works on canvas and Porcella – exhibiting with the gallery for the first time – offers encaustic works on panels and sculptures created with colorful pipe cleaners.
Brian Leo (b. 1976, New Jersey) lives and works in New York City. His paintings address global culture, contemporary politics and American identity. His work has been exhibited in numerous group and solo exhibitions at venues throughout New York and around the world. Leo's work has received critical attention in The New York Times, The Miami New Times, The Korea Times, The Korea Daily, The Brooklyn Rail and other publications.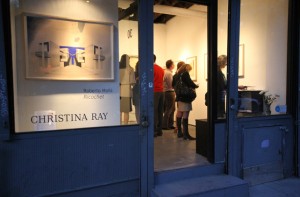 Comments
comments