Toronto is a great city to live and work in, or just to visit. There is a high quality of life and reliable services, in one of the safest urban environments in the world.
the name derived from the Huron word for "fishing weir" – is on the northwest shore of Lake Ontario. Located on a broad sloping plateau cut by numerous river valleys
Toronto's population is one of the most diverse in the world. Nearly all of the world's culture groups are represented in Toronto and more than 100 languages and dialects are spoken.
Toronto, on the north shore of Lake Ontario, is the largest of Canada's vibrant urban centres. It is the hub of the nation's commercial, financial, industrial, and cultural life, and is the capital of the Province of Ontario. People have lived here since shortly after the last ice age, although the urban community only dates to 1793 when British colonial officials founded the 'Town of York' on what then was the Upper Canadian frontier.
Toronto become the 'City of Toronto' in 1834, and through its subsequent evolution and expansion Toronto has emerged as one of the most livable and multicultural urban places in the world today.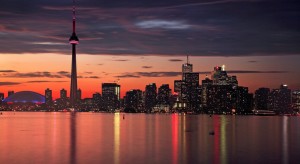 Comments
comments