The Metropolitan Museum of Art (colloquially The Met) is an art museum on the eastern edge of Central Park, along "Museum Mile" in New York City,United States. Its permanent collection contains more than two million works of art, divided into nineteen curatorial departments. The main building, often called "the Met", is one of the world's largest art galleries; there is also a much smaller second location, at "The Cloisters", in Upper Manhattan, which features medieval art.
Represented in the permanent collection are works of art from classical antiquity and Ancient Egypt, paintings and sculptures from nearly all the Europeanmasters, and an extensive collection of American and modern art. The Met also maintains extensive holdings of African, Asian, Oceanic, Byzantine, andIslamic art.The museum is also home to encyclopedic collections of musical instruments, costumes and accessories, and antique weapons and armorfrom around the world. Several notable interiors, ranging from 1st-century Rome through modern American design, are permanently installed in the Met's galleries.
The Metropolitan Museum of Art was founded in 1870 by a group of American citizens. The founders included businessmen and financiers, as well as leading artists and thinkers of the day, who wanted to open a museum to bring art and art education to the American people. It opened on February 20, 1872, and was originally located at 681 Fifth Avenue.
After negotiations with the City of New York in 1871, the Met was granted the land between the East Park Drive, Fifth Avenue, and the 79th and 85th Street Transverse Roads in Central Park. A red-brick and stone "mausoleum" was designed by American architect Calvert Vaux and his collaborator Jacob Wrey Mould. Vaux's ambitious building was not well-received; the building's High Victorian Gothic style being already dated prior to completion, and the president of the Met termed the project "a mistake."Within 20 years, a new architectural plan engulfing the Vaux building was already being executed. Since that time, many additions have been made including the distinctive Beaux-Arts Fifth Avenue facade, Great Hall, and Grand Stairway. These were designed by architect and Met trustee Richard Morris Hunt, but completed by his son, Richard Howland Hunt in 1902 after his father's death. The wings that completed the Fifth Avenue facade in the 1910s were designed by the firm of McKim, Mead, and White. The modernistic sides and rear of the museum were the work of Roche, Dinkeloo, and Associates in the 1970s and 1980s.
As of 2010, the Met measures almost 1⁄4-mile (400 m) long and with more than 2,000,000 square feet (190,000 m2) of floor space, more than 20 times the size of the original 1880 building. The museum building is an accretion of over twenty structures, most of which are not visible from the exterior. The City of New York owns the museum building and contributes utilities, heat, and some of the cost of guardianship.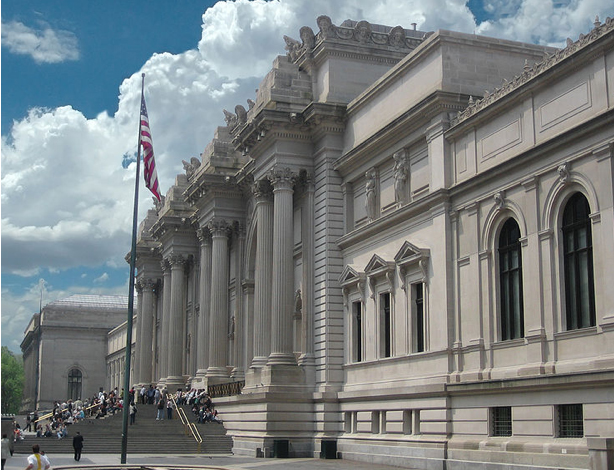 Comments
comments