Salumi are Italian cured meat products and predominantly made from pork. It comes from the italian word salume, pl. salumi, coming from the latin word salumen, that means salty meat. The term salumi also encompasses bresaola, which is made from beef, and also cooked products such as mortadella and prosciutto cotto. The word salumi is not a misspelling or variant of salami (from the italian word: salume, pl.salumi). Salame (Salami is the plural) is a specific type of salumi.
Prosciutto is an Italian word for ham. In English, the term prosciutto is almost always used for a dry-cured ham that is usually thinly sliced and served uncooked; this style is called prosciutto crudo in Italian and is distinguished from cooked ham,prosciutto cotto.
Commonly associated with Friuli and Emilia, the most renowned and expensive legs of prosciutto come from central and northern Italy, such as those of Parma, and San Daniele, in Friuli-Venezia Giulia.
Speck is a distinctively juniper-flavored ham originally from Tyrol, a historical region that since 1918 partially lies in Austria and partially in Italy. Speck's origins at the intersection of two culinary worlds is reflected in its synthesis of salt-curing and smoking.
The first historical mention of Speck was in the early 13th century when some of the current production techniques were already in use.Südtiroler Speck (Italian: Speck Alto Adige) is now a protected geographic designation with PGI status.
In parts of the English-speaking culinary world, the term "speck" refers to Italian speck, a type of prosciutto, rather than German speck, which is identical to the Italian "lardo". The term "speck" became part of popular parlance only in the eighteenth century and replaced the older term "bachen", a cognate of "bacon".
Culatello
Culatello is a refined variety of prosciutto, made from heavier pigs, cut to a fraction of the normal prosciutto and aged, and may be cured with wine, with culatello di Zibello having PDO status. It is commonly served as a starter along with slices of sweet melon or fresh figs.
Capocollo (in Canada, capicollo or capicolla), or coppa, is a traditional Calabrian Italian cold cut (salume) made from pork shoulder or neck, and dry-cured whole. The name coppa is Italian for nape, while capocollo comes from capo—head—and collo—neck—of a pig. The Italian spelling, "capocollo'", is derived from Latin, "caput collum". It is similar to the more widely known cured ham, prosciutto, because they are both pork-derived cold-cuts that are used in similar dishes. However, the technical definition of ham is the thigh and buttocks of a pig (orboar) slaughtered for meat, whereas capocollo is solely meat from the shoulder or neck.
Bresaola or brisaola is air-dried, salted beef that has been aged two or three months until it becomes hard and turns a dark red, almost purple colour. It is made from top (inside) round, and is lean and tender, with a sweet, musty smell. It originated in Valtellina, a valley in the Alps of northern Italy's Lombardyregion.
The word comes from the diminutive of Lombard bresada, "braised".
Guanciale is an unsmoked Italian bacon prepared with pig's jowl or cheeks. Its name is derived from guancia, Italian for cheek. Guanciale is similar to the jowl bacon of the United States.
Pork cheek is rubbed with salt, ground black pepper or red pepper and cured for three weeks. Its flavor is stronger than other pork products, such aspancetta, and its texture is more delicate.
Guanciale is traditionally used in dishes like pasta all'amatriciana and spaghetti alla carbonara. It is a delicacy of central Italy, particularly Umbria and Lazio.
Lardo is a type of salume (Italian charcuterie) made by curing strips of fatback with rosemary and other herbs and spices.
The most famous lardo is from the Tuscan hamlet of Colonnata, where lardo has been made since Roman times. Colonnata is a frazione of the larger city of Carrara, which is famous for its marble; Colonnata is itself a site where Carrara marble is mined and, traditionally, lardo is cured for months in basins made of this local marble. Lardo di Colonnata is now included in the Ark of Taste catalogue of heritage foods as well as enjoying IGP (Protected Geographical Indication) status.
Mortadella is a large Italian sausage or cold cut (salume /sa'lume/) made of finely hashed or ground, heat-cured porksausage, which incorporates at least 15% small cubes of pork fat (principally the hard fat from the neck of the pig). It is delicately flavored with spices, including whole or ground black pepper, myrtle berries, nutmeg, coriander and pistachios, jalapeños and/or olives.
Pancetta is Italian bacon, typically salt cured and seasoned with such spices as nutmeg, fennel, peppercorns, dried ground hot peppers and garlic, then dried for at least three months.[citation needed] Associated with Italy, pancetta varies by region.
Salami is cured sausage, fermented and air-dried meat, originating from one of a variety of animals. Historically, salami has been popular among Southern European peasants because it can be stored at room temperature for periods of up to 10 years, supplementing a possibly meager or inconsistent supply of fresh meat. Varieties of salami are traditionally made in Italy, France, Hungary, Germany, Spain, Serbia, Slovenia, Croatia, Czech Republic, Netherlands, Belgium, Luxembourg, Greece, Romania, Bulgaria, Poland and Turkey.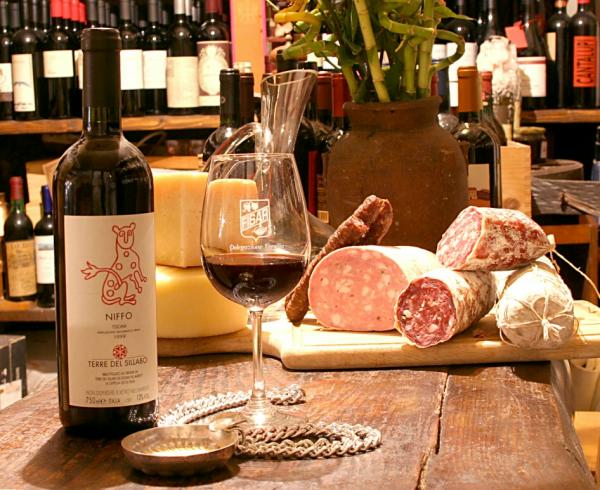 Comments
comments