Quincy Market is a historic building near Faneuil Hall in downtown Boston, Massachusetts. It was constructed 1824–1826 and named in honor of Mayor Josiah Quincy, who organized its construction without any tax or debt.
By the time Boston was incorporated as a city in 1822, downtown commercial demand grew beyond the capacity of Faneuil Hall. To provide an expansion of shop space, Quincy Market was built, as an indoor pavilion of vendor stalls.
Designed by Alexander Parris, the building was built immediately east of and "behind" Faneuil Hall, which at the time sat next to the waterfront. Thus Quincy Market was at harbor's edge at the town dock. In an early example of Boston's tendency for territorial growth via landfill, part of the harbor was filled in with dirt to provide a plot of land for the market. The commercial growth spawned by the new marketplace led to the reconstruction or addition of six city streets.
From its beginning, the Market was largely used as a produce and foodstuff shopping center, with various grocers of such goods as eggs, cheese, and bread lining its inside walls. Digging performed for expansion of the market in the late 1970s uncovered evidence of animal bones, suggesting that butchering work was done on-site. In addition, street vendors took up space outside the building in its plazas and against its outside walls. Some surviving signs of early food and supplies merchants hang today in the upstairs seating hall.
The market is two stories tall, 535 feet (163 m) long, and covers 27,000 square feet (2,500 m2) of land. Its exterior is largely traditional New England granite, with red brick interior walls, and represents the first large-scale use of granite and glass in post-and-beam construction. Within it employs innovative cast iron columns and iron tension rods. The east and west facades exhibit a strong Roman style, with strong triangular pediments and Doric columns. In contrast, the sides of the hall are more modern and American, with rows of rectangular windows.
The building's shape is a long rectangle, providing for a long hallway down its center line. On the roof are eight evenly spaced chimneys, and a copper-based dome in the center of the building, which covers an open common seating area and the major side entrances.
By the early 1970s, Boston's meat and produce had moved to larger, more modern facilities and Quincy Market was decaying. Using a combination of public and private financing, the architectural firm Benjamin Thompson and Associatesand the developer Rouse Company developed a new building form, the festival marketplace. The new Faneuil Hall Marketplace, incorporating Quincy Market, opened in 1976. In 1977, it received the Harleston Parker Medal and in 2009, the AIA's Twenty-five Year Award.
The main Quincy Market building continues to be a source of food for Bostonians, though it has changed from grocery to food-stall, fast-food, and restaurants. It is a popular and busy lunchtime spot for downtown workers. In the center, surrounding the dome, is a two-story seating area.
Further street vending space is available against the outside walls of the building, especially on the south side, under a glass enclosure. Most stalls in this space sell trinkets, gifts, and other curiosities. A few restaurants also occupy fully enclosed spaces at the ends of this enclosure.
More conventional retail space is provided on the second floor and in the basement level. The Comedy Connection, one of Boston's two largest comedy clubs, only recently vacated one of the second-floor spaces, and bars and restaurants occupy space on the basement levels.
Flanking the main building in the marketplace are two equally long buildings (North Market and South Market) that expand the market space for more restaurants, specialty shops, and office spaces. Two further concave market buildings enclose a circular plaza at the market's west end.
The open spaces at both the east and west ends of the marketplace are a common venue for various street performers, as well as street vendors. Most daytime visits to Quincy Market will encounter a large circular crowd of people standing around a juggler or other act.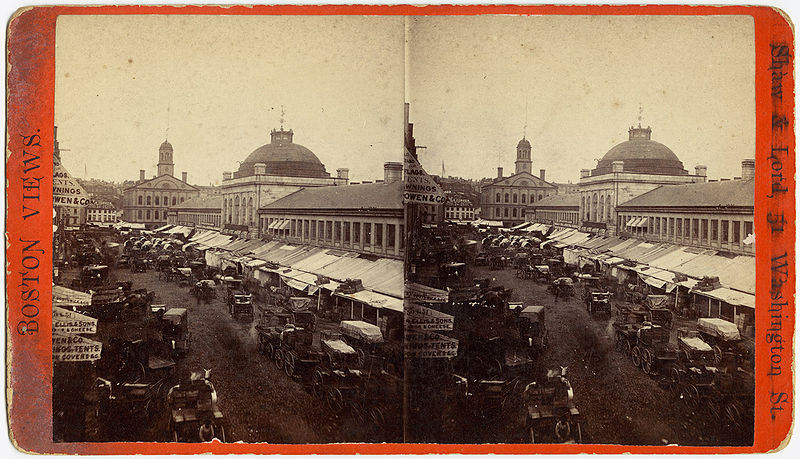 Comments
comments