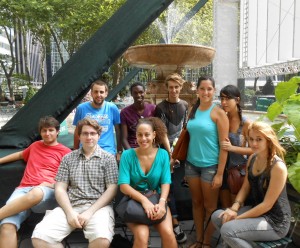 Sunny July morning. 3 teams from the High Intermediate 2A class set out from EC English in Times Square on a race around nearby Bryant Park. The challenge: search Bryant Park and surrounding areas for the answers to several questions and to collect photographic evidence of required tasks. The first team that returned to their teacher at the finish line (which was at the Josephine Shaw Lowell Memorial Fountain) with the correct answers and photographs would be declared the winners of the race.
The teams' first task was to write down directions, using appropriate prepositions, from EC English to the New York Public Library. Once that task had been completed, teams searched Library Way for the following quote embedded in the sidewalk, and took a photograph of the quote: "I want everybody to be smart. As smart as they can be. A world of ignorant people is too dangerous to live in." Try locating this quote the next time you find yourself close to the New York Public Library.
Teams then headed back to Bryant Park to search for the answers to questions about the park, including its history, its games and activities, and interesting facts. For example, did you know that approximately 6 million people visit the park each year? In addition, teams had to take a photograph of one of the monuments in the park, as well as "the piano in the park" where some of the most renowned pianists from New York City play soothing music every summer.
Congratulations to the Green Team, Alejandro, Davinia, Camille and Chloé, who finished the race first, narrowly beating the yellow team.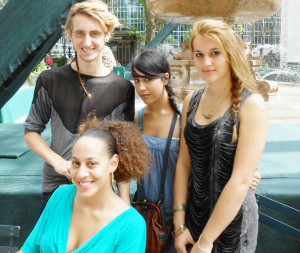 Comments
comments