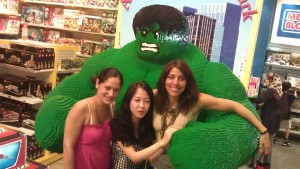 On Wednesday a bunch of students and I went to Toys R Us in Times Square, NYC. It is a stone's throw away from EC NY. It took us literally five minutes to get there. On our way there one student from Italy suddenly felt ill, so we got her a cab and sent her to her residence somewhere on the upper east side. It's too bad that she could't come because it was interesting and fun.
I had been there once before to pick out a toy for my friend's eight-year- old son. This was the first time that this group of ESL students had ever been to Toys R Us in Times Square. We were greeted by a giraffe when we entered. Behind the man in the giraffe suit was a huge Ferris Wheel spinning around. Children enter the Ferris Wheel from the lower level.
It was very crowded. There were lots of kids with their parents, as we'll as adults without kids.
The first thing we checked out was a remote -control helicopter. A lot of the toys on display have demonstrators who present the toys, explain how they work, and then try to sell them to you.
The remote -control helicopter guy gave a great demo. and sales pitch, so we told him he did a good job and then headed over to the Jurassic Park Mechanical T-Rex. Next to the 20- foot dinosaur were the lego sculptures of famous and not so famous NYC buildings. They were impressive and we found out that each lego piece had been glued on. There was an Incredible Hulk sculpture made of Legos and some students got their picture taken with it. I don't want to spoil anyone's visit , so I will not continue describing any of the other displays. There are plenty of things to chat about as you walk around Toys R US.
Comments
comments