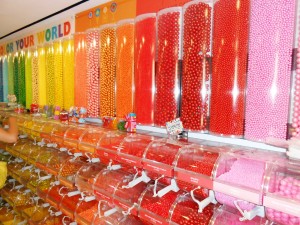 A few weeks ago, Dylan's Candy Bar was featured on an episode of "Project Runway". The up-and-coming designers had to make a runway-ready outfit from the candy they purchased at the store. While I was impressed by the creativity of the contestants, I was even more impressed by the selection of candy at Dylan's. So the very next weekend I made my inaugural visit to the candy store, located at 1011 3rd Avenue (http://www.dylanscandybar.com/). Once I stepped inside, I finally understood the meaning of the expression "like a kid in a candy store". I was mesmerized by the variety of candy on offer, from chocolate bars to jellybeans, and everything in between – this store is guaranteed to satisfy your sweet tooth. Even the stairs are made of candy – well, sort of. The candy has been preserved in the transparent steps leading to other levels of the store that are filled with countless sweet surprises.
If you are looking for a mouthwatering milkshake, look no further than The Shake Shack, which started as a hot dog cart in Madison Square Park to support the Madison Square Park Conservancy's first art installation (http://www.shakeshack.com/). Although this famous "shack" has multiple locations throughout the city, its most popular location remains the one in Madison Square Park. The milkshakes bring all the customers to the park (to paraphrase Kelis), and as a result there is usually a long line of eager customers. Don't let this put you off – the milkshakes are definitely worth the wait, with flavors such as chocolate, vanilla, black and white (basically a combination of chocolate and vanilla), strawberry, caramel (my favorite) and peanut butter. You might also want to try a malted shake. Not sure what that is? According to thefreedictionary.com, a malted shake is "a beverage made by mixing milk, ice cream and flavoring with a soluble powder made of malted barley, and wheat flour". It gives the shake a certain texture and a unique flavor.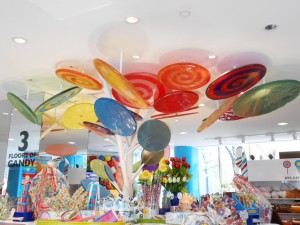 Finally, you cannot visit New York City without having a slice (or four) of cheesecake. Junior's claims to have "The World's Most Fabulous Cheesecake", made from a family recipe that has been used for three generations (http://www.juniorscheesecake.com/). The restaurant opened in Brooklyn in the 1950s and now has many locations in and around Manhattan, including Grand Central and Times Square. The raspberry swirl and brownie marble swirl are just two of the highlights on their extensive menu.
So the next time you have a craving for something sweet, try one (or all!) of these sweet treat destinations.
Comments
comments