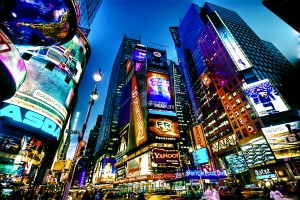 There is so much to think about once you've decided to study English abroad –visas, financing, travel and homestay arrangements—and we hate to add to that list. But we feel the need to point out the big question. How do you decide if New York City is really the best place for you? Here are three things to consider while making your decision.
New York is enormous, crowded and expensive

It's true. You've seen it in movies and on television. You've read about it in books and magazines. This information doesn't surprise you, but the truth is that there is nothing that can really prepare you for just how big it is in person. New York is the largest city in the United States and is made up of 5 individual boroughs: Manhattan, Brooklyn, Queens, The Bronx and Staten Island. Its area is over 7,00 square miles and its population is estimated at over 9 million. That New York City subway system runs 26 routes with 6,200 subway cars stopping at 468 different subway stations practically guarantees you will spend your first few months getting lost. Wandering around in crowded, sweaty subway terminals is part of the New York City experience.
And it's expensive. There is a joke among New Yorkers that there is a $20 "leaving your apartment for the day" fee. The price of the average meal in a 2007 Zagat survey was $39.43. That includes a drink, tax an tip. It's not easy to live cheaply in New York. A 1 month unlimited MTA pass is $104. You can easily pay upwards of $20 for cocktails at most bars.
New York is ethnically diverse

Like, REALLY. In fact, this is probably our most immediately distinguishing feature. New York is NOT an English-only environment. The truth is, there are hundreds of communities nestled in New York City that NEVER speak a WORD of English! In fact, more than 47 percent of New York City's residents over the age of 5 speak a language other than English at home. This means that you might end up speaking more of your native language and less English, if you aren't careful.
You may never want to come back

Living in New York is hard. It's expensive and fast-paced and it smells funny on occasion. But there's also something about it that gets under your skin, into your bones. New York takes your softness and it makes it hard. Your thinking becomes clearer. Your ambitions become larger. Six months in New York will change you, and the rest of the world may appear different to you afterward. Spend a year here, and you may never leave.
===
Learn English in New York with EC English Language Centres!
Comments
comments