Here is a wonderful bit of writing from EC student Melissa Rappazzo. What was your own experience of the three days in October that brought New York to a standstill?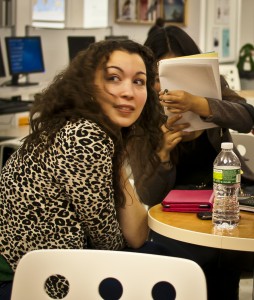 Monday was the hurricane day so I decided to stay at home. I spent a lot of my day on the internet, especially on facebook and on skype. In a way it was cool because I could talk with my all family (I'm Italian so trust me, when I say all family is ALL family. Ten Italians behind the same screen, not easy…) and later with my boyfriend.
Tuesday, after the hurricane, I went out. I walked in south Manhattan, until the World Financial Center. Everything was in the dark, there wasn't electricity. Few markets were opened, but you had to find you food in the dark and the cars were without the traffic lights… Strange to see the kind of things.
Wednesday, I went out again. To be all day at home Monday was enough for me. So I waited a friend from Brooklyn, and when she arrived at my place we went to eat out and walk in Times Squares. It wasn't easy for her to come from Brooklyn to Manhattan… She passed two and half hour to join me. It was a long trip for her, she told me she fells like a pellerin when she was walking across the bridge with all the people who wanted go to Manhattan. An atypical experience I think.
Comments
comments