Last week was a tough one at EC New York.  EC Sandy shut us down for three days and it screwed up transportation and housing for many people.  But this week we're back on track, and next week we are going to give it everything we've got!
If you haven't already noticed that jars up at the front desk, go check them out.  These are part of a competition we're holding to raise money for donation to Hurricane Sandy relief funds.  Compete against other countries to fill your jar with the most money. Remember, this money goes to charity.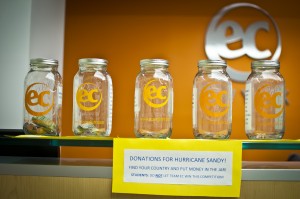 Remember that on Monday there will be school, as it's verteran's day. But here's a schedule for our themes of dress for spirit week
Tuesday: "Jersey Day" – Wear your favorite sports jersey OR dress up as your favorite Broadway character.
Wednesday: "Twin Day" – Pick a friend and dress the same! This could be lots of fun!
Thursday: "Mismatch Day" – This one needs no explanation.  Polka dots and pin stripes.  One black sock and one white sock.  Let's see what you got!
Friday: "EC Day" – Do you have anything that's orange? Wear it! Let's see how orange we can be!
We're looking to a great week!
Comments
comments