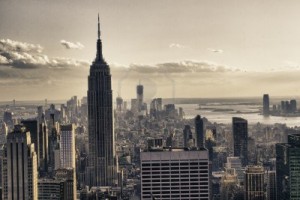 When students first set eyes upon the concrete jungle of New York City, they might feel overwhelmed and perhaps even intimidated by the noise, bright lights and constant activity. This unfamiliar environment may be even more challenging because of linguistic differences.  What is familiar to all students, regardless of background and culture, is music.  Music can be used in a language classroom to help students make connections between what they know or what is familiar to them, and the new structures and vocabulary of the unfamiliar target language.  Using music, therefore, can provide an authentic cultural context for developing and improving listening, speaking, pronunciation, grammar, vocabulary, and idiomatic language use.
Here is the outline of a useful introductory activity for students who are studying English in the New York City for the first time, although it can also be used for students who have experienced life in the Big Apple for some time.
First, the teacher asks students to think of as many images or adjectives to describe New York City.  Students then discuss whether the ideas that were generated are positive or negative.  The teacher plays "Empire State of Mind" by Alicia Keys, a song that pays tribute to the city, and students follow the lyrics while listening to the song.  Here teachers can adapt the lyrics to suit their primary objectives: they could have students fill in missing words, correct lyrics that are incorrect, identify a particular grammar point, or choose from a selection of words in brackets.   The song refers to New York City landmarks and culture, so students can identify with the lyrics and make cultural and linguistic connections.  The song also contains examples of incorrect grammar, so students can also identify and correct the errors, such as double negatives or slang.
Next, teachers play Frank Sinatra's "New York, New York".  Once again, students follow the lyrics while listening to the song.  Teachers can choose to focus on particular grammar points or vocabulary.  Alternatively, teachers can compile a list of questions for students to answer while they are listening to the song so that students are listening for specific information and taking notes.  Once students have listened to both songs, they need to compare and contrast the songs in pairs or in small groups.  What do these popular New York songs have in common, and what are some of the differences?  What do both songs say about the city, and how do the messages relate to the images that were generated in the warm-up?  This activity is followed by a whole-class discussion of the answers that groups or pairs came up with.
A follow-up writing activity is one in which students have to write their own verse for one or both of the songs.  Alternatively, students write a poem about their experiences with or impressions of New York City.
Targeted skills (depending on the level):
Use transactional language and compare and contrast;
Agree and disagree in a variety of ways;
Offer opinions;
Listen for detail and specific information;
Transfer information;
Distinguish between fact and opinion;
Develop vocabulary based on travel, city life, personal values and ideals, lifestyles, society and living standards;
Include a wide range of idiomatic expressions and colloquialisms in conversation;
Write descriptions of people, places, objects and things;
Summarize texts;
Report experiences, incidents and events and relate biographical details.
Comments
comments