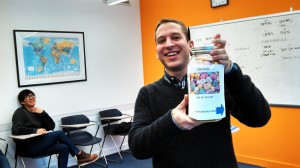 February 14th is just around the corner and you've probably noticed all the hearts going up at local shops and restaurants.
In the United States, Valentine's day is a special day of the year when couples express their love and gratitude for each other through gifts, candies and romantic gestures.
For others, Valentine's day is considered a Hallmark holiday, a day popularized by corporations to sell sentimental cards, flowers and candies.
Regardless of your feelings, chances are that your boyfriends or girlfriends have some real expectations.
Join us at 6pm on February 14th for our Valentine's day party! Meet new friends, eat some tasty candy, and watch some classic American Valentine's day entertainment!
What do you think about Valentine's day?
Comments
comments