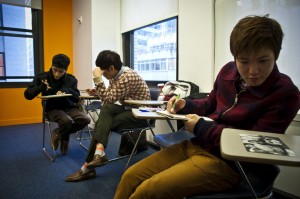 Tests are a stress-inducing element in the lives of most students. But they are often necessary to assess abilities and to make tough decisions.  At EC we use assessment tests to place students in classes that are appropriate for their level and level descriptor tests that target the specific knowledge of each course.
Entrance Exam
This test has a sampling of questions, ranging from the very obvious to the very difficult, and is designed to test across skill sets, like reading, grammar and listening. We use your score on this test to gain an understanding of your strengths and weaknesses, and to place you in a class with other students who are at/near/around your level.
What to Remember: we assess your  level on a variety of skills, from reading and writing to speaking and listening.  Not everyone in your level will perform equally across every skillset. You may sometimes feel that you were placed above or below what you perceive to be the ability of your fellow classmates, but have faith. We know what we are doing!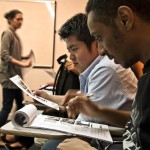 Level Tests
Each class takes two tests per course: a mid-level test and an end-level test.  That makes for 2 tests per complete course.  
What to Remember: Not moving to the next level is not the same as failing the level test.  Each course is structured with material that we expect to take between 8-12 weeks to master.  That means you should take AT MINIMUM 2 tests per level.  We do not expect that you will move up a level every time you take the level test.
Exit Test
At the end of your stay at EC New York, you will have the option to retake an assessment style test.  If you score higher in this test than your current level, you will receive a formal letter along with your certificate of studies from EC English that will read at the higher of the two levels.
What to Remember: The exit test cannot hurt your standing; if you happen to score lower than your current level, there will be no change to your level on your certificate.
Ask your teacher what you can do to prepare for your next level test!
Comments
comments