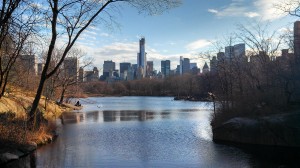 After a VERY long winter, the weather is finally lightening up in the Eastern United States.  For many of us, that means we just can't wait to get outside to walk, to run, and to revel in the glorious sunshine. We put away our boots and parkas, and look forward to all the outdoor activities that 5 months of cold and wet prevented us from enjoying.
Whether your preferences are for leisurely strolls or intense calisthenics, New York City parks have you covered.
Central Park is the largest park in Manhattan, and it reaches all the way from 59th street in Midtown to 110th street in Harlem. It is one of the largest tourist draws in NYC and on a sunny day the park is filled with individuals and families enjoying its beautiful scenery and facilities.  The loop is a road that circles the entire park, and it is closed to traffic during the weekends.  But if you plan on running the full length of it, you had better make sure to wear comfortable shoes; one lap around the park is almost nine miles!
Riverside Park is a low-traffic alterative to Central park.  It is made in the narrow strip of land on the west side of Manhattan island, and presents great views of the Hudson river and New Jersey. It has many benches and picnic tables that are perfect for an outdoor lunch with friends.
Bryant Park is also incredibly popular, and is just 1 block away from our campus at EC New York.  Bryant Park is located behind the Midtown Library.  It has ping-pong tables, a Bocci Ball court, and it even has a cafe with tables and chairs!
So make the most of this beautiful weather and take the chance to get outside and get your blood moving!
Comments
comments