On Friday last week, a group of 20 EC students went to Indoor Extreme Sports for a game of laser tag.Everyone had a great time.  The group was divided into two teams; a red team and a blue team.  Then we were armed with (eerily realistic looking) weapons.  The arena  was a large, indoor course, filled with obstacles, rooms, and even a full size tank!
By the end, everyone was totally exhausted.
Afterwards, we went out for dinner at a (not so) nearby diner. Getting to better know students from EC has been one of the
Thanks everyone for coming out, and we'll see you again next month!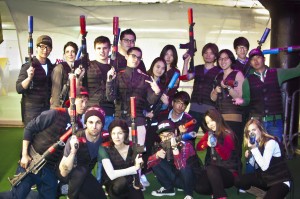 Comments
comments