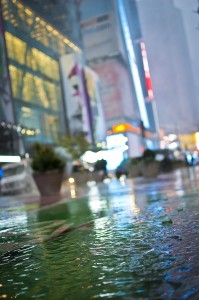 So you may or may not have noticed that Spring in New York, while bringing many blessings, also comes with lots and lots of rain.
But fear not! Your trip to New York is not ruined by a little water! New York is a city that has been built around water, in the middle of two large rivers.
So here are just a couple of things you can do on a rainy day in New York City.
Movies on a rain day are a classic option, as old as the theater itself.  But the Nighthawk Theater in Williamsburg, Brooklyn offers something special.
The Nighthawk Cinema offers an eclectic variety of films to satisfy both your indie itch and your blockbuster burn.  But what makes the experience truly unique is the full, in-theater table service you get during the movie itself.  Just place your order with one of the wait staff and then sit back and enjoy the movie.  They will bring out your food and drinks when they're ready.  The Nighthawk gives a whole new meaning to Dinner and a Movie!
The museum option undoubtedly appears on all "things to do in NYC" lists, as well it should, because the public museums of NYC are enormous, wonderful and FREE!
Sure, they have a "suggested donation" of $15, but don't let that fool you.  Entrance fees to the museums are voluntary.
I can think of few things I like more than to wander the many halls of the Museum of Natural History or the Metropolitan Museum of Art on a rainy day.
Hey, if you're going to get wet, you might as well get wet on purpose.  Hot Yoga may not be for everyone, but for many, this is the ultimate rainy day activity.
Hot Yoga is a series of controlled movements performed inside a very hot room, under the instruction of a yoga teacher. It's challenging and uncomfortable, but afterward you feel like a whole new person! (Just make sure to bring a dry change of clothes, so you're not stuck walking home in the rain, soaking wet!)
Comments
comments