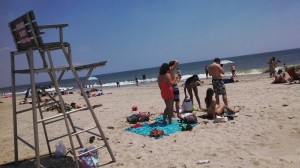 When you think of New York city, the amazing beaches of the Rockaways may not be the first thing to come to mind. But nonetheless, they are not to be missed during your stay!
The Rockaways are a series of small islands (connected by bridges) alongside Long Island in South Queens, where thousands of New Yorkers flock on weekends for some fun in the sun.
The area features nearly a mile-long sandy beach and a boardwalk that allows you to walk easily from one end to the other.
Unfortunately, there is no train access to the area, but there are several options available by bus.
Rockabus is a company that offers charter buses to Rockaway from several location at only $15 roundtrip, and they leave from several convenient locations, like Williamsburg and the Lower East Side. NYC Beach Bus is another option, and it will get you there for only $12!
Be sure to pack plenty of food, water and sunscreen, as there are no shops near the beach, and if you're planning a trip to the beach for this weekend, you may want to buy your tickets in advance.  This is New York City, after all!
Comments
comments