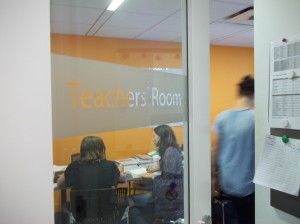 When you choose to study at EC New York, there will be many people who will positively affect your learning experience. Undoubtedly, of these people, your instructors may singlehandedly play the greatest role in whether this experience is phenomenal or not! Let's find out a bit more about some of our excellent EC teachers: Tatiana, Alena, Rachael, Brett, and Cory.
1. What is your favorite thing to do on the weekend in New York City?
Tatiana loves going to Flea Markets.  These can be indoor or outdoor bazaars where people sell used goods. There are many flea markets in New York City. For a list of the most popular flea markets, visit this page. Alena, likes to find fun and free activities throughout the city. She highly recommends free Kayaking on the East River. For more ideas, visit timeout.com. This site offers lots of great activities throughout the five boroughs.
2. What is your favorite part about teaching at EC New York?
Rachael, one of our newest teachers, enjoys the 14 person maximum class size. "This is perfect because it gives students the opportunity to have personal attention from the teacher." Cory, one of our veteran teachers, enjoys the location of the school and its proximity to Times Square as well as the wide diversity of our students. Did you know that the biggest nationality at EC New York is "Other" in the summer time?
3. What is your favorite food?
Since New York City is a melting pot, our teachers' food choices also represent the different ethnic choices that you can find throughout the city. Tatiana loves Sushi, Alena loves Burritos, and both Brett and Cory love New York style pizza.
4. What is your favorite color?
Surprisingly, no one chose orange! Tatiana loves green, Alena loves purple, Brett loves black, Cory loves red, and Rachael loves grey. To find out what difficult colors say about our personalities, visit this interesting website.
5.  What advice would you give someone who wants to learn English in New York?
"Definitely buy an English–English dictionary and make friends from different countries," says Tatiana. Cory recommends being open-minded and outgoing. Along the same lines, Alena suggests making friends with native speakers. Brett suggests maintaining focus, especially for longer term students. Rachael recommends living with an English-speaking host family. For more details on the host family experience, read Vanessa's blog from September 5th, 2013 on the EC New York Blog.
It's important to remember that teachers aren't just instructors of the language, but they're your greatest resource while living in New York! Take a few moments to get to know your teachers better and you might just learn more about yourself along the way!
Comments
comments