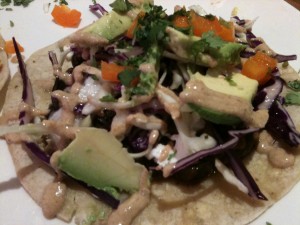 By Jamey Sadownick, with contributions from EC Teachers
There are approximately 7.3 million vegetarians in America. In 2013, New York was ranked as the #4 vegetarian city in the United States. Vegetarians don't eat meat, fish or chicken. A smaller percentage of Americans are vegan, and they do not eat any meat, fish, chicken or dairy products. Being a vegetarian may seem impossible to some people, but there is an amazing variety of vegetarian dishes out there to enjoy.
Many EC staff and teachers are vegetarian! We've put together a list of the Top 5 Vegetarian Restaurants in New York, based on their recommendations:
Blossom (187 9th Avenue) –Recommended by  Sarah –  It's got a kind of hip yet cozy atmosphere.  The food is vegan, organic, and mostly local, and the portions are filling. Their lunch menu includes breakfast items (so, basically brunch) and main dishes run around $15.  I haven't been for dinner, but entrees are about $20 then, and starters ($10-12) include a couple of raw options.  Reservations are recommended, and there's not really anywhere to wait for a table if you have to do so.  Options include Cauliflower Risotto and and Rigatoni in Porcini mushroom cream sauce.
Pure Food and Wine (54 Irving Place) – Recommended by Alena –   It's pricey, but worth it in my opinion.  All of the food is raw, which sounds disgusting, but it's actually amazing.  I went there out of curiosity because I hadn't had much raw food and my friends were raving about it and I was truly impressed by how delicious the food was.  I can't believe it's possible to make something so delicious out of all raw ingredients. They serve a variety of foods, such as Thai, Mexican and Italian. Options include Sweet Corn and Cashew Tamales with Chili Spiced Portabella and Zucchini and Heirloom Tomato Lasagna.
Hangawi (12 E 32nd Street) – Recommended by Jamey – Located in Koreatown, this restaurant is unique as it is a 100% vegetarian Korean restaurants. You take off your shoes as you enter and sit on booths that are low to the ground. Some options include Summer Kimchi Wraps with Tofu and Organic Avocado Bibimbap.
Vatan  (409 3rd Avenue) – Recommended by Jonathan – This is a vegetarian Indian restaurant that offers an all-you-can-eat buffet for $30. There is a really cool atmosphere here, and they specifically serve Gujurati-style Indian food. It is recommended to wear loose pants and bring a big appetite!
Candle Café (2427 Broadway) – A trendy vegetarian/vegan place on the Upper West Side. This is also a great date place! Start out with some organic cocktails, and share an order of vegan nachos. Then move on to an entrée of Cornmeal Crusted Tempeh or a Grilled Portobello Sandwich.
Check out one of these places in Manhattan and try something new!
Comments
comments