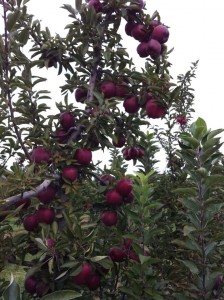 By Jamey Sadownick
Autumn (fall) is a great time to be in New York! The weather is a bit cooler, you can finally wear that cute light jacket that's been sitting in your closet, and there are lots of great activities in and around the city!
Many New Yorkers like to take short trips outside of the city to go apple-picking or pumpkin-picking! Travel just an hour or two and you can be in a lush, scenic farm in the countryside. There are many apple farms in upstate New York, New Jersey and Connecticut. Walk through the farms, pick delicious apples right off the tree and take them home!
We recommend Alstede Farms. You don't need a car to get there – take New Jersey Transit to the Gladstone Station and you can get a shuttle there directly to the farm!
If you are studying at a New York English School and don't want to leave the urban paradise of the city, there's still plenty to do this month. The biggest attraction is the annual Halloween Parade. Watch as thousands of New Yorkers, of every age, dress up in the most insane, creative and impressive costumes and march through the city! It's a uniquely New York experience that you must see at least once.
For more information about Halloween, be sure to check out Sarah's AY Lecture on Halloween Traditions on Wednesday Oct. 9 and Oct 10 at 2:30pm in the Central Park classroom!
Enjoy the fall!
Comments
comments