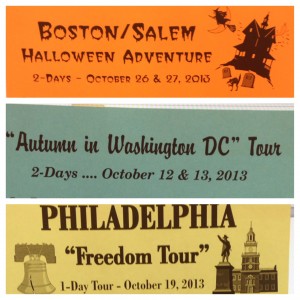 We have three!
For those studying at a New York English School and would like to take a break from the busy city, we will be having weekend trips to three different cities on the east coast.
First up is a 2-day tour of Washington DC, our nation's capital, on October 12th and 13th where you can see the White House, the Capitol building and many more.  Next is our 1-day tour on October 19th to Philadelphia, the second capital of the United States, where you will visit Independence National Historic Park, home of the Liberty Bell and Independence Hall. Lastly, in the spirit of Halloween, we will visit the 'Halloween Capitol of the World' Salem in historic Boston from October 26th to 27th. You will visit haunted houses, mystery theaters, Dracula's Castle and the Salem Witch Museum.
The price you pay for the trip includes: transportation, a professional tour guide, lodging and related taxes, and gratuity (tip). If you have any questions, please come to the front desk. Take some time to explore these great destinations!
By Saran Wilson
Comments
comments