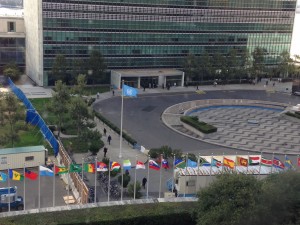 The General Assembly of the United Nations
The United Nations (UN), the 192-member forum for discussions of international issues, was founded in 1945.  New York City is privileged to be home to the UN headquarters, and is currently the host of the annual meeting of the General Assembly.  From Sept. 27 to October 5, the neighborhood around the UN (42nd-47th Street and First Avenue) was an armed fortress, filled with dignitaries from around the world, massive NYC police presence, and a huge representation from the print and media press corps.
Now that the General Assembly meetings are over, those studying at a New York English School should seize the opportunity and take a tour of the UN. It is a great place to see many gifts brought by international members over the years of UN history; see special exhibits about important issues, such as human rights, climate change, women's rights, and more; and browse in the wonderful shops that offer replicas of flags, posters, mugs, glasses, and all kinds of colorful souvenirs and educational toys and books.  The UN also has its own Post Office where you can buy special postage stamps that can be collected or mailed only from the UN.  Even though the building is housed in a major U.S. city (NYC), the United Nations is considered international territory—just one of the fascinating facts you'll learn when you visit!
Also, there are 193 flags. One for each country member and one UN flag!
By Susan Rhodes
Comments
comments