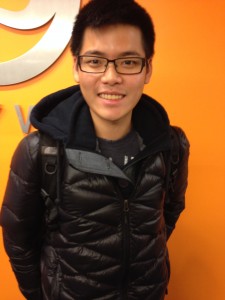 Today's blog comes from Kuan-Yu Huang, a student of a New York English School. From Nick's Write Now elective, he gives us a vision of Times Square.
Times Square is an extremely busy area which is located in the central of Manhattan. It is also one of the most famous places where people celebrate the New Year's Eve. Billions of people put their focus on Times Square every New Year's eve. Times Square is the heart of Manhattan as if NYC is the eye of the USA.
                Once you stand in the center of Times Square, you can see hundreds of rushing people walking on the street. There are also amounts of people who are lining up to buy the Broadway show tickets. In short it is always crowded and noisy. For me, it's really hard to imagine what brave courage you need to drive a car to Time Square because inconceivable amounts of people always walk in the street without watching the traffic light.
                Above your head, the billboard is always bigger than you imagine. All of them are playing advertisements day and night. Particularly at night, the light of billboards makes Time Square look like in the day.
                Around the Time Square Plaza are the super high skyscrapers. I was surprised by the fashionable and modern high skyscrapers when I first came to time square. Next to the skyscraper is another skyscraper. It's very hard to describe the first sight of seeing the skyscraper around the Times Square.
                In the end, Time Square is an incredible place you have to go there once in your life. Definitely, it will be an electrifying trip that you can't ever forget.
Comments
comments