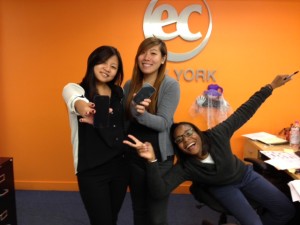 Last month, we gave you some necessary apps to improve your English. This month we look at the apps you need to survive while studying at a New York English School.
Is this your first time in New York City? It can be overwhelming to figure out where to go, what to do and how to get there!  I would like to share with you some apps that I would recommend and personally use. If you want to download any of these, click on the links below!
The must-have NYC apps:
Time Out New York: Need something fun to do in New York? Find concerts, events, shopping sales, walking tours and more.
 iTrans NYC: Get precise directions from any location in New York by bus, subway, or walking with live train information and service alerts.
Google Maps: Helps you get from point A to point B. Don't get lost in big apple.
 Yelp: This is a must-have for finding shops, restaurants and attractions, whether you're in Brooklyn, Queens, Manhattan, or even New Jersey!
Opentable: After yelping, you might want to make reservation. Even though it's good to practice your English by calling a restaurant to make a reservation, sometimes it can be difficult, even for Americans! You can make your reservation directly on your phone and don't worry about calling the restaurant!
Find My iPhone: In case you misplace your iPhone.
There's a lot that the city has to offer, and these apps will make it a little easier! If you think you have better ones, please do share with others!
By Aye Myint
Comments
comments