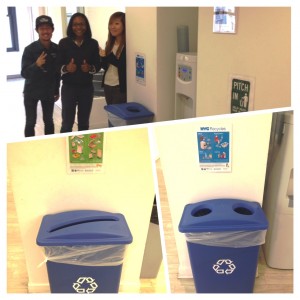 Last week, EC New York finally received our center recycling bins! Have you seen them around the 14th floor? The recycling bins are spread around the student lounge and hallways of our school.  In an effort to continue going green, we are reducing our waste and reusing as much as we can. From printing double sided, to reusing the EC water bottles and motion activated lighting, EC New York is on board with the green campaign.
Recycling and reusing is an important key in sustaining our community and future. Did you know recycling can:
-prevent pollution
-send less garbage to the landfill
-save energy
-save money!! (Buy recycled or refurbished products!)
Check out the signs near the recycling bins to see what can and cannot be recycled. It is very important to put the right items into the right bins or else it won't be recycled! Look on the bins for this recycling symbol located by the computers and the water coolers.
Not sure what to recycle while you're studying at a New York English School? Check out this recycling guide for more information.
P.s. Have you been using your EC water bottles?
Comments
comments