EC New York, a place where you can learn English quickly, meet good friends, and have a great study abroad experience. During your time, several people will color your experience. Whether it's a teacher, an advisor, or a director, they will all have some impact on your stay in New York. Now, isn't it time that you got to know these individuals on a deeper level?
Tatiana, our TOEFL, CPE, and General English teacher, always helps students learn English quickly through her professionalism and dedication.  She definitely is a model teacher!  This only makes sense, since her sister is an international model in Colombia! Once in a while, you can even see Tatiana strutting down our hallways with her own signature runway walk!

Her Hips Don't Lie! Did you know our Designated School Official, Leidy, grew up in the same area as the famous Colombian singer, Shakira? Though Shakira is known for unique singing ability, Leidy is the better dancer, especially when it comes to Salsa!

Back in her hometown in Jamaica, Saran, our Student Services Coordinator, was neighbors with Usain Bolt, the fastest man in the world! No wonder Saran is so quick at making those photocopies on Monday morning! When you have a chance, ask Saran what Usain's nickname for her was as a child!

Don't be fooled by Patricia's friendly exterior, we know that she can be tough when she needs to. No wonder, because her cousin is the WWF wrestler, Shelton Benjamin! Though he may be King of the Ring, Patricia is definitely the Queen of the Classroom!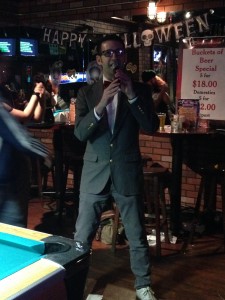 Who knew politics and karaoke went together? Obviously Jamey did! He spent a night singing Karaoke alongside the daughter of former President Bill Clinton. They even shared a moment singing a duet! Ask him what song they sang together!
By Bindu Varghese
Comments
comments