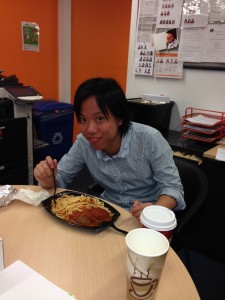 Num Pang, a Cambodian sandwich shop with multiple New York City locations, serves up the perfect lunch for EC students. Located just a 10 minute walk from school, this little gem has some of the most flavorful deals around.  Some call num pang the Cambodian equivalent of the Vietnamese banh mi sandwich and, luckily, it does include the beloved pickled vegetables, cilantro, and cucumber to help balance out the deep flavor of meat or fish.
Whether you are craving a hearty pork belly sandwich or grilled mahi mahi, there is an option for everyone. And even though Num Pang has a rather limited menu, there are a number of vegetarian options to choose from including grilled tofu and Japanese yam.  The sandwiches are made to order on a perfectly toasted semolina baguette. Don't miss the grilled corn on the cob with chili powder and coconut flakes.
So what's not to love?  The portion sizes may be considered small for some and the food is not the ideal for a first date. In other words…grab some napkins because they are messy! And although standard for New York prices, a $10 sandwich may be considered outrageous for many.
By Vanessa Zuidema
Comments
comments