Growing up in the middle of New York City, I knew I wanted to get out of the city for college. I had searched all over the nation (I was too afraid to leave the country) for just the perfect school for me. My relatives in California wanted me to experience the easy breezy west coast living but as much as there was a part of me that wanted to leave home… I didn't want to be too far from my parents and sisters. So a bit of background info: I ended up only applying to schools in the Northeast region and ended up at a public state school called Binghamton University.
One major factor for my decision was the cost.  I didn't want to graduate school buried under student loans! In the U.S., there are two types of schools: public and private.  Public schools are offer an enormous "discount" if you reside in the state of the school while private schools are much more expensive … I think it must be the different amenities and programs the university offers outside of the tuition. Thinking back to my college experience, a few things come to mind: my major, my extracurricular activities, and Binghamton, New York.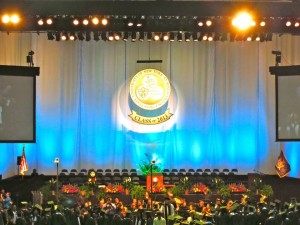 I studied English, Literature and Rhetoric as my major and Asian Studies as my minor. I spent my first (freshman) year deciding what I would be most interested in but was undecided for the most part. I knew math and science were neither my fortes but I could curl up to a good book. Reading and writing were also a comfort for me so I decided to pursue the very broad major of English (later on deciding to concentrate my studies in Rhetoric).
I knew I wanted to do more than simply study so I pursued a Greek letter organization after rushing. Rushing is a term used to describe the time where a student attends the events of different organizations to show interest. By the end of freshman year, I joined a multicultural Asian-interest sorority called alpha Kappa Delta Phi, or the Greek letters αΚΔΦ. To me, αΚΔΦ holds 4 very important pillars: leadership, scholarship, Asian awareness and of course, sisterhood.  I would recommend for everyone to reach out to their respective Student Life Office for exposure into all the amazing organizations on campus.
All in all, the American University Life is what one chooses & makes of it. Sometimes I wonder how the outside world perceives our schools and education. Are we portrayed as a nation with an abundance of party schools (not untrue) or with elite institutions offering accessible education? I hope my university experience was able to shine some light on the American University Life. Otherwise, feel free to ask me anything you'd like! 🙂
By Tiffany Chen
Comments
comments