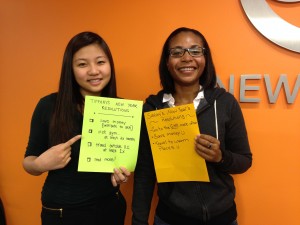 As we reflect the past year, it is common for many to develop resolutions for the upcoming year. It is a tradition for many which may include fitness goals, healthy diets or objectives for the coming year. According to about.com, here are the top 10 New Year's resolutions for 2014:
1. Spend more time with family and friends
2. Fit in fitness
3. Tame the budge
4. Quit smoking
5. Enjoy life more
6. Quit drinking
7. Get out of debt
8. Learn something new (for example, by taking basic English classes in New York)
9. Help others
10. Get organized
But what's common about this popular tradition is that it is commonly broken, and difficult to stick by for the entire year. But hey, that doesn't mean we shouldn't make goals to better ourselves any other time of year! So how can we stick by our resolutions? Here are a few tips from yours truly:
• Make realistic resolutions: sure, traveling to every continent in the world is possible but will it be possible to complete in 365 days? Is it financially realistic? What are other factors?
• Manage the number of resolutions you make: change is great and changing for the better is… well even better, but is making 15 resolutions more manageable or keeping it at 5? You know yourself better than I do 😉
• Write it down: writing down your goals will allow you to keep track of yourself. You can visually see your goals and even make a daily checklist for a greater sense of accomplishment.
• Share with your friends: not only is mentioning your personal goals and objectives a great conversation starter, but you may notice it's a great way for accountability. Your friends could remind you of your goals so that you don't necessarily feel alone at it and then you can brag about when you've accomplished something!
Remember it takes time for change to happen and you have the 365 days to learn a new skill or kick that nasty habit, but all it takes is the will to do so.
By Tiffany Chen
Comments
comments