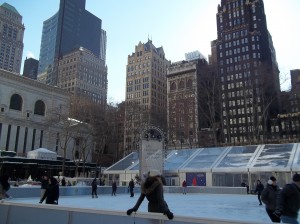 Resist that stubborn temptation to hibernate for the next 3 months.  Get yourself and your friends out and about to enjoy the record snowfall we've had so far this year in NYC!
When you're not taking our basic English classes in New York, you can check out this list of some cool winter activities to do in the City and the surrounding areas:
1. Snow tubing and sledding are both wonderful pastimes that can be done at ski resorts or parks throughout the city. Check out Mountain Creek for a fun day trip outside of NYC!
2. Take a weekend ski trip – stop by the front desk to learn about the next weekend ski trip you can take!
3. Stroll through Central Park – Nothing is more majestic than the beautiful park illuminated in white.
4. Ice Skating – a favorite past time for tourists and residents alike. Along with the Bryant Park rink just steps away from ECNY, there are two rinks in Central Park as well as many located in outer boroughs!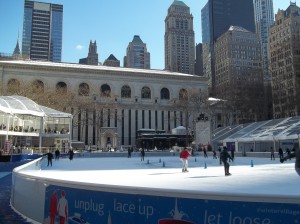 5. Find a fireplace bar, pull up a chair, sip a cocktail or hot chocolate and don't leave until the embers stop burning. Time Out New York has a great list of recommendations, including The Flatiron Room in Manhattan and Union Hall in Brooklyn.
Winter is a great time to be in New York City! Don't spend it all inside! Go out and enjoy all the offerings!
By Vanessa Zuidema
Comments
comments