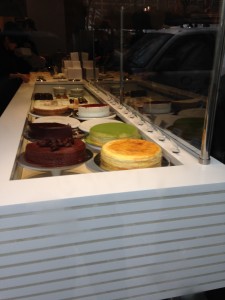 Most people take dessert seriously and I am one of them. Every time I go out for dinner, I need to go to a dessert place to complete my meal. Especially after studying English Courses in New York, dessert is a necessity!
Here are the three places that I would recommend you try. Enjoy carefully: I do not want you to overdose on all these sweets!
Nutty Goodness at Waffles and Dinge
You might have seen these food trucks around NYC. These trucks serve sweet and savory waffles, ice cream and coffee. Order the dinge with Belgium chocolate fudge (not Nutella) and top with ice cream. Yum!
You can check their locations on Twitter.
Chocolate heaven at Max Brenner
Almost everything here is made with chocolate! They have many varieties such as hot and cold chocolate drinks, pastries, coffee, fudge cake, chocolate pizza and their best seller "fondue". Go with friends and enjoy their Fondue!
Max Brenner is located near Union Square on 841 Broadway, New York, NY 10003.
Crepe-tastic Cuisine at Lady M
This is my all-time favorite dessert place. I can have this any time any day.
You can find a location near EC. It is located by Bryant Park at 36 W 40th St, New York, NY 10018. This store serves 20 layer Mille-crepes which are worth every penny. Try their signature Mille Crepes.
If you want to know more places, come and see me.
By Aye Myint
Comments
comments