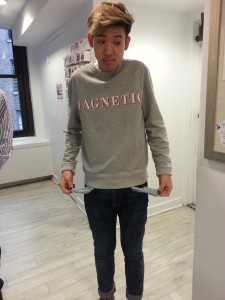 By Austin Yang
As you probably know by now, New York City isn't cheap! Whether it is buying a ticket to a Broadway show or paying money to take a picture with a Disney character, these expenses can sure add up. But you can still have fun and try out cool new things for the price of…… ZERO dollars! Yes, you read it correctly. There are events, art galleries, parks, and more! Here are the Top 5 FREE fun things to do in NYC:
1) Central Park
With spring coming, why not take advantage of the beautiful weather and experience Manhattan's illustrious urban park. At this time of the year, Central Park has many free events and gorgeous scenic views from all corners. There are also many statues that are fixtures there along with the rest of the landscape. I highly recommend this place to those of you who enjoy spending time outdoors and basking in the warm sunlight.
2) Chelsea Galleries
The Chelsea district offers fine art galleries that are open to the public year round. Some of the more recognized galleries include Petzel Gallery (456 W. 18th st), Hauser & Wirth (511 W. 18th st), David Zwirner (519, 525 and 533 W. 19th st), and Barbara Gladstone (515 W. 24th st) Be sure to check it out if you're a fan of contemporary art or just have a taste for fine art! Afterwards, you can practice discussing art at your English private lessons in New York!
3) Governor's Island (Opens to the public in May 2014)
Did you know the ferry to Gov. Island is free? Every summer you have access to the ferry via route of either Brooklyn or Manhattan, whichever port happens to be closest to you. The island was actually a military outpost at one point, but is now one of New York's favorite summer 'go to' spots after opening to the public back in 2003. The notion of going to a small island for a relaxing day is pretty neat. Add a bike ride, picnic and kite flying to make the day absolutely perfect! In the summer, the Island hosts parties and events, such as the recent EDC (Electric Daisy Carnival) which took place last year.
4) Japan Society 333 East 47th Street , New York , NY
Founded in 1907, Japan Society is a nonprofit organization whose mission plan is, "To bring the people of the United States and Japan closer together in appreciation and understanding of each other". By offering film screenings, cultural lectures, and even workshops, Japan Society presents various events annually in the performing arts, business and policy sectors, and even education fields. For those of you who are interested in Japanese culture and the arts, Japan Society is a worthwhile visit.
5) Fashion Institute of Technology (FIT) Museum
Did you know that the Fashion Institute of Technology offers its own museum? As a matter of fact, it is even accredited by the American Alliance of Museums. The museum boasts a number of galleries, such as their award winning exhibitions, "The London Fashion" and "The Corset". The museum at FIT is free to the public at all times, and is open Tuesday through Friday from noon to 8pm and 10am to 5pm on Saturdays.
Go out and enjoy NYC for free!
Comments
comments