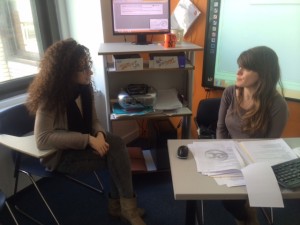 With all the options of English courses that EC New York has to offer, it can be difficult to know which course to take. Private lessons may be another available option that can make the decision a bit more confusing. If you're having difficulty deciding which type of course you should take at EC New York, Inc., please read on to find out the reasons why you should register for English Private Lessons in New York.
You prefer to study alone.
This may sound like a no-brainer, but it's very important to know that much of your studying and practice will be alone. Of course you will have the guidance of a teacher, but there will be no other students to share ideas with or learn from. This is an important part of a class dynamic that you lose when taking individual private lessons. On the other hand, you will get the undivided attention of a single instructor who can assess your language needs and help you improve. Additionally, if you are a visual, auditory, or kinesthetic learner, the teacher can design lessons that will maximize these strengths.
You want to have an intensive learning experience.
In private lessons, the class schedule and pacing are dependent on you as the individual learner. This way, time can be spent focusing on your weakest areas and avoiding areas you are strong in. Additionally, because you are not in a class atmosphere, you do not have to feel rushed if you need to spend extra time on a particular area or feel that the course is going to slow if you are mastering a particular idea. This way you can feel extremely challenged in a short period of time.
You have specific linguistic needs.
Do you need to use English in a work setting or do you want to learn vocabulary for a specific context? Then, a private lesson is the right choice for you. In class settings, teachers have to balance the needs and wants of each individual student, whereas in a private lesson, it's just you. This way you can get the perfect lesson customized for your needs. However, keep in mind, that if your goal is to simple use English more fluently, then it might be good to register for an Intensive English course at EC New York. This way you will have enough exposure to the language to use it in multiple settings and contexts.
You have a limited schedule.
If you have limited availability and cannot fit a General English or Exam Preparation course into your schedule, then private lessons will allow you to have the flexibility to plan your lessons around your life. However, keep in mind that the school has the final decision in terms of schedule and availability. Therefore, flexibility is still key. If your schedule is too limited, then you may be affecting the total number of hours you can register for.
You English skills vary.
At EC New York, our placement exam will diagnose your strengths and weaknesses in English. If you have extremely different abilities in each of the four skills (Reading, Writing, Listening, and Speaking), then private lessons will allow you to focus on specific skills to help bring them in alignment with your other skill areas. For example, if you are strong in speaking, but have a lot of difficulty in writing, your tutor will be able to design lessons to enhance your speaking ability but focus on your writing. This way you will see a marked improvement in one of your skills. If you are equal in all areas, a General English course will be better to improve your skills overall. You will have more time to develop these skills whereas in a private lesson your time is limited.
Whether you enroll in a General English course or register for private lessons, the decision is ultimately yours. However, take a few moments to really identify the reasons why you want to study English. This way you can find a course that meets your expectations and helps you improve the way that you need.
By Bindu Varghese
Comments
comments