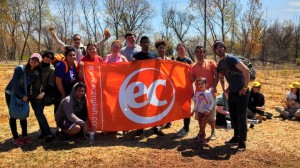 Take a break from your English private lessons in New York and spend a Saturday volunteering instead! In April, EC New York will be participating in a company-wide Giving Back Fortnight in which staff and students join forces to better our local community.
This year we will be partnering with MillionTreesNYC to care for young trees that have been planted throughout NYC. Planting trees is the first step toward creating a "green" New York, while continued tree care and maintenance are vital to ensuring the health of our urban forests. Join staff and students from EC New York on Saturday, April 26 to participate. Sign up at the front desk to reserve your spot!
And if you're looking for other volunteer opportunities, here is a list of things to check out:
New York Cares: Team members of New York Cares work together with organizations to identify which needs are the most urgent, they then recruit volunteers and set up opportunities for individuals to fulfill those needs.
Street Project: This organization connects young professionals in New York with flexible opportunities to give back, while networking with other dedicated individuals. Whether volunteering at Soup Kitchen or bowling with kids, this could be the perfect opportunity for you.
Food Bank NYC: 1 in 5 children in NYC rely on emergency food. You can make a difference combatting hunger in our city by volunteering through this organization.
Comments
comments