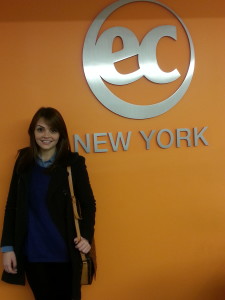 Karol, a Brazilian blogger and journalist, is currently studying in EC New York's Semi-Intensive English course. Learn more about Karol and her journey to "the greatest city in the world":
Why did you want to study English in New York?
This is actually my fourth time here in New York City. The last time I was here, I had an opportunity to interview Selena Gomez for work. The language barrier was a constant challenge whenever I would come across new people. One reason why I want to learn English is because I want to interview American celebrities. They have given me many opportunities to interview them, but I have not done these interviewees since I cannot express myself well in English. And I would not like to do an interview where I have to hold a paper and read the questions and not express myself professionally.
The reason I chose New York to be my home for the next six months was nothing more than my belief that this is the greatest city in the world. I love the atmosphere, the people here, and the countless attractions this city has to offer.
What is your favorite store to shop at?
It will have to be Forever 21. I am a huge fan of all their designer lines and the various styles of clothing which they are known to carry. I love how open and easily accessible everything seems to be whenever I go there. All of the items there are also inexpensive and readily available. In Brazil, I would frequent this store quite often too.
 What are your other interests?
I like music, travel, I like make-up and I like to do makeup –tutorial video,
I post a video of how to curl your hair and this video has almost 3 million views.
Can you tell us something about your blogging journey?
I would like to start my blog in English because I have a lot of followers all over the world.
How and when did you enter into blogging?
I'm a journalist for a magazine in Brazil called Capricho for 7 years. I like to write about everything all the time. I write a lot of blogs in this magazine so I decide to have my blog – Karol with K.
Check out her blog here: www.karolpinheiro.com.br
And don't forget to say hi to Karol in the hallways of EC New York!
Comments
comments