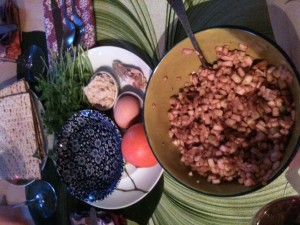 Passover is an important holiday in the Jewish religion. It celebrates the freedom Jewish people received after being slaves in Egypt. It commemorates the story of Exodus in the Old Testament, when Jews were no longer under the control of the Pharaoh and could be free. This year, Passover began April 14 and finishes April 22.
The most common icon of Passover is Matzoh. Matzoh is a flat, cracker-like bread. Since the Hebrews left Egypt in such a hurry, there was no time for the baked bread to rise – thus, it is a tradition to eat unleavened (flat) bread like matzoh during the Passover holiday.
Many Jewish families have a special dinner at home called a seder. There is lots of eating, but also several traditions. There are prayers that are read, and participants drink four cups of wine at different parts of the seder. That's a lot of wine!
There is also a seder plate (pictured above) that contains various foods and herbs that all represent different aspects of life related to the holiday; for example, the bitter herbs represent the bitterness of slavery.
It is a joyous time to eat, see family, and remember our ancestry. A common tradition is for parents to hide a large piece of matzoh in the house and the children (or adults) must try to find it. The child who finds it wins money. The Passover seder is very long, so this game helps keep children awake and interested in what's happening.
New York City has lots of Jewish residents and there is a lot of Jewish history right here in New York. An interesting place to learn more about Jewish life is the Tenement Museum on the Lower East Side.
===
Are you interested in taking the TOEFL exam? Find out more about EC New York's TOEFL Preparation Courses. 
Comments
comments