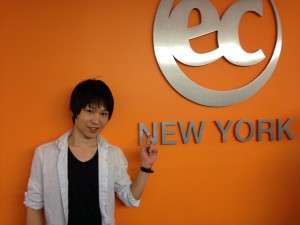 Akira studied in our Academic Year English programme. Here is his story:

At last the day I leave the school has come.It's very hard to write and speak about my feelings since I've been studying here for a long time, one year or so. Now I feel bittersweet.
I really appreciate all teachers who I met in the school. Speaking of which, Nolan and Amy were my first teachers and they taught me the fun of English in New York City. To be honest, I was extremely shy when I arrived here and also was worried about everything I would experience. If I hadn't met them, my NY life possibly would have gone bad.
Gabe and Emily were my second teachers. I'm also grateful to them for their amazing lessons.At that time, I was so depressed that all my best friends I met here were leaving. But they encouraged me every time. So I could keep studying without losing passion.
After 3 or 4 months, I was feeling a bit bored studying English in spite of the great lessons. So for a change of pace, I decided to join the Cambridge class. Cory, Emil, Brett, Sarah, Jessie and Alena were the teachers when I took it. As their class were amazing, all classmates were able to focus on each of the classes easily. I hadn't known anything about Cambridge exam until I enrolled in the course. But, for sure, I believe that I could improve a lot in the class. Well, maybe I could have worked and studied harder than I actually did though… Anyway, I'm glad to have been able to study there.
Lastly, Jamey, Austin, Tiffany, Helen, John, Saran and Kaori! Thanks for all your help. Maybe the reason why I love EC was built by them. Especially, Jamey is a great mentor to me. Honestly, if I hadn't talked with him and he hadn't looked after me, I wouldn't have carried on studying until now. Every time I get depressed and tired, he always helped me and listened to my worries.Thank you Jamey!
Austin and Tiffany! I love you guys! I appreciate that you are friendly to me every time.You know what, even if I feel tired, I can enjoy talking with you two since I feel really relaxed. In fact, I wanted to drink or have dinner with you two.
Overall, I love EC and if it's possible, I would like to keep in touch with my amazing teachers and staff.
Comments
comments