Are you curious about EC New York's TOEFL Preparation Course? We interviewed Ernesto, a current student in the program, to find out more: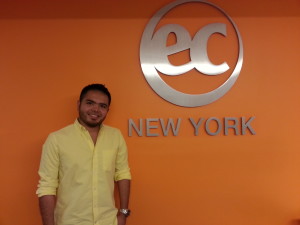 Can you introduce yourself and tell us why you decided to enroll in a TOEFL Preparation course in New York?
My name is Ernesto Miranda. I'm from Villahermosa, Tabasco, a city located in the Southeast part of Mexico. I'm a geologist and for the last 4 years I have been working at ¨PEMEX¨, the Mexican state-owned oil company.
This is not my first time in New York, but it's the first time I'm here taking an English course. I arrive in EC New York the 2nd of March and was placed in the Upper Intermediate class soon after taking the placement test. However, after a few weeks I decided to switch courses and take the TOEFL (Test of English as a Foreign Language) class because one of my goals is to get a MS degree.
One of the many requirements for international students whose native language is not English and are applying for a graduate program in USA is to score at least the minimum acceptable score for admission. This minimum score requirements of the TOEFL test may vary depending upon your major and other considerations such as being employed as a TA or Teacher's Assistant.
What was a challenge that you faced while studying for this standardized test?
One of the challenges I've faced was during the speaking section of the TOEFL test exercises, because I didn't use to manage my time so well for this section. Fortunately Tatiana was my teacher and with her help, I was able to improve drastically and work on my time management skills.
Would you like to give a word of advice for any future students who might be interested in our TOEFL program?
The TOEFL prep course is really catered to focus on the skills that you'll need to do better in this test, and it's more intensive than the General English core course. You will develop all your skills in writing, reading, listening comprehension and speaking!
Comments
comments