By Touria Ghaffari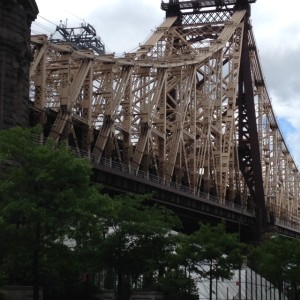 You have seen it in practically any movie featuring New York City, from the 1923 Paramount Pictures' No Man of Her Own starring Clark Gable and Carole Lombard to 2012 Batman series The Dark Night Rises. In F. Scott Fitzgerald's famed novel The Great Gatsby Nick Carraway; the narrator tells us "the city seen from the Queensboro Bridge is always the city seen for the first time, in its first wild promise of all the mystery and the beauty in the world." Indeed these words should be the ones on the minds of all those travelers arriving in Manhattan in a taxi or other cars from JFK airport.
The building of the bridge was a long process. The year 1838 gave birth to the idea of having a bridge joining Manhattan to Queens. It took almost 30 years for a private company to begin financing the construction project in 1867. But that company itself went bankrupt after 20 years. Finally in 1903 successful plans were implemented by the city's Department of the Bridges under the leadership of bridge engineers and architects Gustav Lindenthal and Henry Hornbostel and with a delay the bridge was finally opened to the public on March 30, 1909, totaling a cost of $18 million dollars and 50 lives of the men building it. After years of use, the bridge received an extensive $300 million renovation between 1987 and 2012.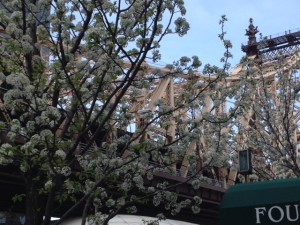 Next time you are on the Queenboro bridge, crossing the East River, look at this marvel of engineering and remember all those who made it possible with their hard work, money or lives and sing the 59th Street Bridge Song (Feelin' Groovy) by Simon and Garfunkel:
Slow down, you move too fast.
You got to make the morning last.
Just kicking down the cobble stones.
Looking for fun and feelin' groovy.
Hello lamppost,
What cha knowing?
I've come to watch your flowers growing.
Ain't cha got no rhymes for me?
Doot-in' doo-doo,
Feelin' groovy.
Got no deeds to do,
No promises to keep.
I'm dappled and drowsy and ready to sleep.
Let the morning time drop all its petals on me.
Life, I love you,
All is groovy.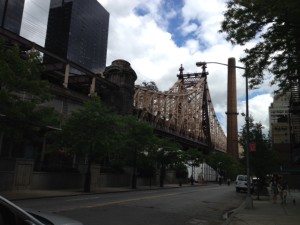 Are you interested in studying English intensively for 6 months or more? Check our course English for Academic Purposes in New York!
Comments
comments