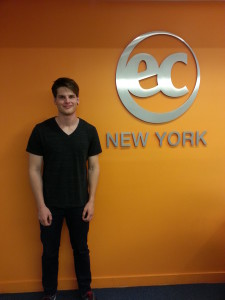 Michael is a recent graduate of EC New York. He spent the past couple of months studying in our Cambridge ESOL Exam Preparation course. Here is his #ecexperience:
I originally booked EC because of it's incredibly high rated reviews on their webpage as well as some other rating websites. My travel agency recommended EC to me because of it's modern style of teaching, former feedbacks as well as the extremely well located position. After checking prices and reading trough all the reviews I decided to choose this school.
I was exited to finally see the school after my arrival. I was happily surprised that everything was exactly how I read beforehand. The school is welcoming, the walls painted in orange, the classrooms parted by glass walls which creates a warm and open atmosphere. I instantly felt, if you can say that about a school, home.
My already positive feelings towards EC were getting even more enhanced as we got greeted by our first teacher. You can clearly see that these people are in their professions because they like social contact and the teaching itself. From then on until today i experienced solely great impressions from EC. They supported me heavily in finding a new accommodation since I had some issues with a rental contract I accepted on my own, apart from EC.
During my whole stay I never felt of bored or being compelled to go to school. The vibe is friendly and relaxed.
As well as the day to day life at school I can recommend organized trips and events of EC. Everything is set up smoothly and is well priced. No matter if you want to visit the Niagara Falls, ride a roller-coaster at the SIX-Flags theme park or simply want to enjoy a local basketball game, they offer a wide range of activities.
I strongly recommend EC to every student who considers to go learn English in the US because of the many reasons named and furthermore as a result of an unique experience and the many great impressions  and friends you will make.
Comments
comments