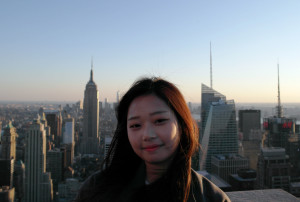 My Experience at EC New York
By Seyeon Chun

I already spent three months at EC New York. I still remember my first week. I was so nervous in class that I had difficulty speaking in English. But since then, I have adapted and really enjoy my life at EC. I have never regretted coming to EC New York and I want to tell you about the advantages that I have experienced.
First, There are good quality and diverse classes. In regular classes, you can learn English with fixed friends and teachers. It's the same every week so you can adjust easily and make friends. Your teachers help you and care about your studying. In elective class, you can choose classes you want. When you study English, you can find your weaknesses. You can make up for those defects in elective classes. If you can't speak well, take the Get Talking class. If you are weak at writing, you can take the Write Now class.
Second, there are a lot of extra activities. It's hard to learn English alone. You have to use English a lot. There are many extra activities after school at EC. You can meet friends from diverse countries and you all have to speak English. For example, you can go bowling. You will speak English and make friends while bowling. In addition to electives and regular classes, there are AY lectures. These are free extra classes. Every extra activity is helpful.
The teachers are nice and you can study with your personal tutor. My teacher in my regular class helps me to study. A tutor suggest extra activities and checks my grades. Actually, I selected EC because while other schools have good classes, this is the only school with tutoring. I love that my tutor always checks my level, gives me homework, and teaches me about overcoming my weaknesses. The tutor improves my studying.
I highly recommend going to EC because of the excellent classes, extra activities, and tutoring system. You can learn while enjoying New York at EC. I hope this helps inform your choice if you want to learn English in the US and are deciding what school to attend.
Comments
comments