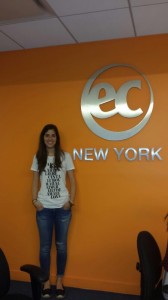 By Elsa Paz
If you are planning to learn English in New York for at least 3 months, there are different places to go and visit that aren't the typical tourist places. Of course you will find tourists everywhere, but personally having visited New York City before, I have discovered far better places in this trip that I didn't visit 5 years ago. Here are two places that I discovered in my second visit:
1) Bryant Park
This place will be easy to find if you study at EC because it isn't far from the school. I know what people think of Central Park, but honestly I think Bryant park is much better. It's a small park near Times Square where you can relax (yes, even in New York!) and have lunch while enjoying the amazing view of the Empire State Building, the Public Library, and the Chrysler Building. You can also lay on the grass and in the Spring and Summer they offer free movies at night.
2) The High Line
This is one of the places that I've discovered on my second time in New York. The High Line is a linear park built on a section of the elevated former New York railroad, which runs along the lower West Side of Manhattan, so if you want to visit this neighborhood I recommend that you visit this place. It's much more interesting and beautiful than walking any other place nearby.
Comments
comments