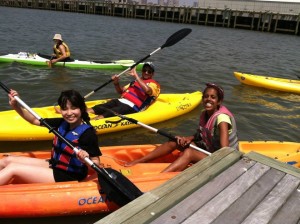 By Kate Camara
When the I moved to New York City I realized two things: New York City is an expensive place and it is a place that doesn't have a lot of nature in it. I was tired of paying so much money to do fun things and I was tired of buildings and concrete! Then I found out about The Downtown Boathouse. This is an organization that offers FREE kayaking (which is a kind of one or two person boat) in different locations in the city.
I went the first day expecting I would have to pay for something, it is New York after all. When I arrived they asked us if we were all over 18 and if we could swim. After we signed in they gave us life jackets and showed us where the lockers and changing rooms were, and still everything was free. Then we got in our boats and went out on the water. The water was still and the view of Manhattan was beautiful. We went out on the water for an hour. It was very safe and not crowded at all. We raced each other, splashed each other and had a great time. After about an hour we came back. It was such a fun experience I have been back several times.
The Downtown Boathouse organization has locations on the Westside of Manhattan at 72nd St., 54th St, in the West Village, W 10th St. and on Governor's Island. All locations are open from mid May to mid October . New York City is an amazing city full of busy excitement  but sometimes we all need to get away from the buildings and the loud taxis and go kayaking. Go to www.downtownboathouse.org for more information!
Find out more about English courses in America! 
Comments
comments