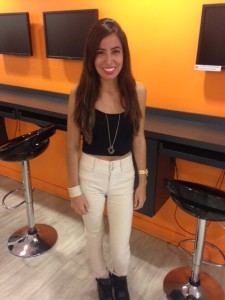 Eduarda is a 20 year old civil engineering student from Brazil who is enjoying her experience living and learning English in New York. She is currently studying in our Semi-Intensive English course. Even though she has only been here for two months, she already has a strong love for the city, learning English, and EC New York. She is incredibly friendly and enjoys talking to new people. EC New York sat down with Eduarda to ask her some questions about why she loves New York, and and of course, EC New York.
Why did you choose to learn English in NY?
New York is beautiful. Everyone likes New York. In the beginning it was because my ex-boyfriend lived here (we broke up) so I wanted to travel here. It's never boring because there is always something happening. Also, in New York, I can learn other things as well as English, such as Korean.
Why EC New York?
I think EC is one of the best. When I was studying English in Brazil, my school recommended EC because it's a good program. Also, it is in Times Square which is an easy place to get to. I like it so much, that I want to stay. I am supposed to leave at the end of September, but I think I will stay longer!
Which of EC's activities have you participated in?
I went on the trip to the Bronx Zoo, a few museums, and trips to the park.
What do you like most about EC?
I like the people here. Every week we meet new people and everyone is in the same situation, together. I am even learning Korean from my new friends! Also, I think the rooms are clean, the building is nice and new, teachers are nice, and there are a lot of computers and technologies available.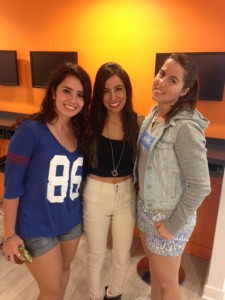 What is your favorite class at EC?
My favorite class is Get Talking. It's a very nice class that helps with speaking.
What is the most difficult part of learning English, and what is the easiest?
Writing is the most difficult. Speaking is the easiest for me, because I love to talk!
What do you like to do on the weekends?
I like to hang out with American boys and go to Bryant Park movie night.
What is the most useful piece of advice you would give to someone visiting NY:
You need to try different foods! Here you can find the most delicious things to eat and the best restaurants. I love Brazilian food, but last month I tried Korean food and food in Chinatown for the first time. There are also so many things to do. If you have nothing to do, just walk. When I was living in Times Square and bored, I would go for a walk and discover new, crazy things. Anything can happen in New York!
Comments
comments