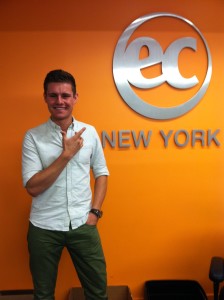 Michael studied in our full immersion English course. 
I live in the Bronx in the Sedwick Avenue. The Bronx isn't dangerous or boring. The citizens are always polite and helpful. I think I have the best host mother you can have in New York City. Ester Nelson is a very nice and polite old lady. She makes the best banana pancakes in the world and when I'm in her apartment it feels like home. She was like my own grandmother. She was always polite to me and we had a lot of fun together. Some evenings we just sat together and talked. We talk about her life and her family, but most of the time we spoke about the world and how everything is changing.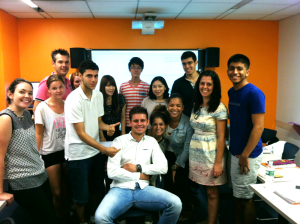 I went to EC New York to improve my English. It was the best decision I have ever made. I met so many nice new friends and we did so many things together. We went to so many places. I remember my first American party at a pub on 42nd Street. After the pub we decided to go in a karaoke bar and everybody sang a song in front of all these people there.
I go every morning for a run around the Bronx. If you are sporty and love to run go to the Bronx Park. If you change your tour everyday you can see that the Bronx is very peaceful and very nice. I also recommend the Bronx Zoo. The Bronx Zoo is one of the largest Zoo and it's very nice there. If you go to the Zoo on Wednesday it's free, but it is probably very crowded.
If you want to buy clothes, food or something else go to 231 and 225 street. At 225 are a bunch of big shops like Marshalls or Target. You can get everything for a fair price, it is not so expensive like Manhattan. At 231 street are many small stores that sell everything you need.
It was really my best holiday. The USA was a good experience for me. I felt very comfortable there and I want to come back one time. I will meet all my friends again.
Come to the Bronx and EC New York you will love it!
Comments
comments