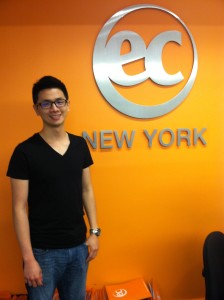 Tim is currently studying in our full immersion English  program.
I have studied at EC school for 6 months. I think this school is good for you to study English. I can give you some suggestions that can help you.
EC school is in Times Square, which is a very good, convenient location. You can choose many different kinds of restaurants. You can also shop at a lot of stores there. There are some free classes in school. I suggest you take conversation and writing to improve your English. I suggest that you live in Queens, because the rent is much cheaper than the other areas. My favorite teacher is Amy, because she teaches patiently and she also prepares some games in class to help us learn English easily. My favorite part was making a lot of friends in EC school.
Here is my recommendation. I hope this information can help you.
Comments
comments