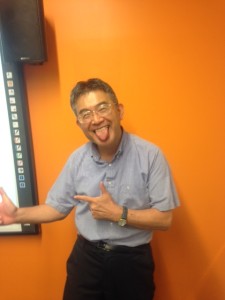 Married couple Michiaki and Megumi Tsukada are on their fifth week at EC New York. Michiaki is currently in a full immersion English course, and will be at EC New York until the end of September. We had the opportunity to ask Michiaki a couple of questions regarding his experience at EC New York, and about living in New York City.
Why did you decide to learn English?
I work for a company that manufactures baby strollers. The company recently changed its structure to become more international. Our president decided that we will speak English at all of our meetings, so we must learn English.
Why are you studying English in New York?
I didn't know any information before I got here. I went to visit a customer in Japan who introduced EC, and I met with another student who said the school has a good reputation. I chose New York because I liked this location in Manhattan. Also, I used to come to New York every year to watch baseball because I am a fan of Hideki Matsui, but I stopped watching the Yankees when Matsui moved to the Oakland Athletics.
What do you like most about living in New York?
I like that there are many different languages here, and that we can communicate in English. I also want to travel around the East Coast. I plan to go to Boston after I finish the school and I want to travel to Toronto. I like that New York is an easy base to travel around. My favorite place in New York is Times Square, because it is very exciting. There are many places to visit, go shopping, and enjoy.
What do you like most about EC?
I can meet very young people here. In Japan, I usually talk to older people. But here, I am impressed by the young people. Also, I am improving in some areas of my English. I took the examination last week.
You are studying here with your wife. How does that work? Do you study together?
My wife is in another class, but we study together at home. Our pronunciation is very different, too. My wife is here because I am here. She wanted to come to the US to enjoy. She has only been here twice before, and she is not so keen to study! She wants to go shopping or traveling.
What advice do you have for someone learning English?
It depends on your goal. My advice is that you must know what you want to learn. For me, I need speaking and listening for meetings at work. Besides, I personally want to be promoted to the top. My weak point is pronunciation, which has prevented me from speaking with people. Teachers understand my English, but not many of the other students.
Fun facts about Michiaki:
My favorite foods are sushi and tempura. My favorite dessert is Italian tiramisu.
I have traveled all over the world. I have visited over 50 countries, all over central Asia and Africa and I enjoyed them. My five favorite countries to visit are Turkey, Thailand, Norway, Italy, and the USA.
Michiaki's hidden talent:
I can sing! I like to sing old English songs, and American country songs.
Comments
comments