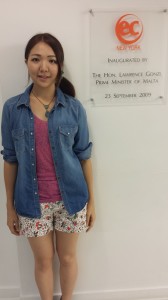 Yumiko Abe is a student from Japan who studied in our Academic Year Program. She was also able to study English in the US in two very popular cities: San Francisco and New York. During her time at EC San Francisco and EC New York, she was able to improve her English by 9%. On her graduation day, she provided us some feedback about her time studying English in the US.
"One thing I loved most about studying at EC New York was that I could meet and talk with people from all over the world whenever I wanted. Even if I didn't know them, we were friends! I would tell students to not study at home. It's important to go out and enjoy your stay. This is the best way to improve your English."
Studying in a full immersion English program can be a bit nerve-wracking, but with foreign friends and EC New York, you're sure to improve just as much as Yumiko! Congratulations again Yumiko on a job well done!
Comments
comments