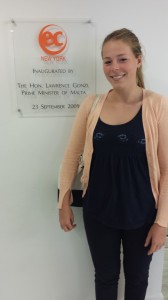 Johanna Hjertberg is a Swedish student who studied in EC New York's General English program for four weeks. She improved her English learning by 32% overall and is now leaving EC at a C1 level. This is a tremendous achievement for such a short time! Before leaving, Johanna wanted to share some of her success with other students.
"If you want to improve your English, you should do your homework, listen carefully to your teachers, and try to speak as much English as possible, both in school and at your free time. I really liked EC New York because the teachers have a lot of humor which makes the lessons fun and enjoyable."
We're so glad you enjoyed your experience at EC New York and congratulations on a job well done!
Comments
comments